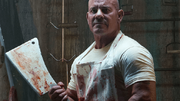 The Butcher is an upcoming event icon at Howl-O-Scream Tampa 2013. He is a member of the 13 and is #4 in the group. He will be featured in his own house, The Basement.
Online Description
Edit
Momma's always been proud of her son, the Butcher. He's always been there to protect her and help with the family business.
But all that chopping has kept him from finding a love of his own. Now he's looking for someone and he'd love to hack his way into your heart.
Are you ready to meat your fate?
Section heading
Edit
Write the second section of your page here.