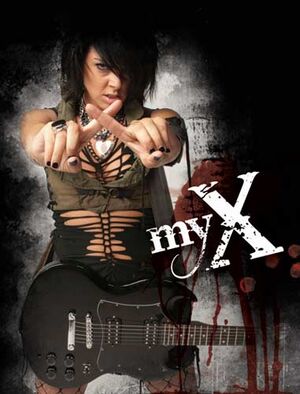 2010: MyX "Revenge Rocks!" was the 11th edition of Howl-O-Scream to take place at Busch Gardens Tampa Bay.
The theme of this year's event concerns the evil rocker Sylvie and her band MyX. The character's backstory is that she caught her boyfriend with another woman. Wanting revenge on him, she lured him backstage and cut off his index finger and collected it in a vile. She now continues this practice by choosing a man out of the crowd during each MyX concert and collects their index fingers in viles which are hung in her backstage dressing room.
Haunted Houses
Edit
Nightshade Toy Factory: Son of Nightshade
MyX: Revenge Rocks (Theme House) (NEW!)
Alone (NEW!)
Delta Epsilon Delta: Extreme Rush
Taste of Blood: A Different Vein
Trapped in the Walls: Ghost Chasers
Death Row Vengeance: No Escape
Deconstruction: The Doctor is Out of Control
Scare Zones
Edit
Road Trip
Crazed Love
Xtreme Fanatics
Light of Doom
Spiders and Snakes
Shows and Entertainment
Edit
MyX Live
Fiends
Blood Relations
Club X
Howl-O-Scream Shop of Horrors
Notable Facts
Edit
1st year to have an official "Theme House"